Guaranteed Clean Drug Test Pass
Assists Workouts and Recovery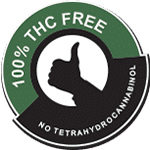 Absolutely no intoxicating cannabinoid, for anyone needing to pass a drug test, and those who cannot use THC.
Sweet and naturally sugar-free.
CBD is paired with MCT (medium-chain triglycerides) that has health-promoting nutrients including vitamins, minerals, and healthy fats.
By combining MCT with CBD and adding hemp plant terpenes back in, this is a powerful combination that will strengthen and soothe.